I was looking for a clip for an article I wrote, so I Googled myself. I then discovered I will be included in an
upcoming book
featuring some powerful women. I am THRILLED and so honored. And not going to wonder how I made the cut, so that I dont find myself edited out:)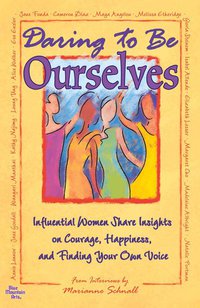 From Interviews by


Marianne Schnall
About the Book
As a freelance journalist, Marianne Schnall has interviewed many of the world's most interesting and influential women. In Daring to Be Ourselves, she brings together for the first time the most inspiring and empowering quotes from these interviews. The result is a compelling collection of insights and words of wisdom from women such as Maya Angelou, Jane Fonda, Gloria Steinem, Madeleine Albright, Eve Ensler, Jane Goodall, Melissa Etheridge, Cameron Diaz, and many others.
A diverse group of women of all ages and backgrounds is included in the book—from actresses to activists, comediennes to poets, recording artists to Nobel laureates. Their voices come together as one as they speak out on a variety of important issues, like equality, overcoming adversity, aging, finding balance in life, taking care of the earth, and more.
Thought provoking, enlightening, and even humorous at times, this book is a valuable resource for women and girls everywhere. It conveys the message that when women dare to be themselves—when they embrace their power, speak their truth, and believe in their dreams—they can transform the world.
Full list of women included in Daring to Be Ourselves:
Madeleine Albright • Isabel Allende • Maya Angelou • Sandra Bernhard Margaret Cho • Cameron Diaz • Eve Ensler • Melissa Etheridge • Jane Fonda • Carol Gilligan • Jane Goodall • Charreah Jackson • Annie Lennox • Elizabeth Lesser • Wangari Maathai • Courtney Martin • Pat Mitchell • Kathy Najimy • Natalie Portman • Gloria Steinem • Loung Ung • Alice Walker • Kerry Washington • Betty Williams
Marianne interviewed me during the Women & Power conference last year. So humbled to be among a group of such amazing women. The book will be released on November 15th.